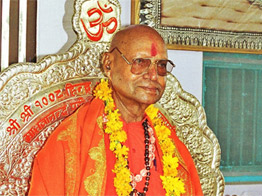 Paramhans Swami Madhavananda was one of the rare and authentic spiritual masters of our modern era. He was the loving and devoted disciple of Sri Deep Narayan Mahaprabhuji. On departure from this world Sri Mahaprabhuji bestowed his spiritual mantel on Paramhans Swami Madhavananda.
Affectionately called 'Holy Guruji' by his disciples, Paramhans Swami Madhavananda inspired all who came to him through his exemplary life of pure devotion to God and through his selfless service to all living beings. He resided in northern India but travelled the country widely and also visited disciples in Europe.

Paramhans Swami Madhavananda was greatly respected in India and abroad, and he was honoured with many spiritual titles including Hindu Dharm Samrat, which literally means the "upholder of Sat Sanathan Dharma" the eternal truth that unites all living beings.

Swami Madhavananda recorded the life story of his beloved master Sri Deep Narayan Mahaprabhuji in the book "Lila Amrit" (Living Light).

Paramhans Swami Madhavananda entered Mahasamadhi on 31st October 2003. He remains a true inspiration for all seekers of eternal truth.